I'm disappointed to report that I think Ed Sheeran's newest track kind of sucks.
It's called "Bad Habits", and it sounds like a bland Disney channel version of something The Weeknd decided to leave off his last album. Fairly catchy, but mostly lame. (You can listen to it here if you want to.)
I'm not even a hater; I'm actually a fan. In college, someone showed me that video of Ed floating down a river on a boat playing "A-Team" and I was immediately into it. Still am. Ed Sheeran was / is great at making earnest acoustic music.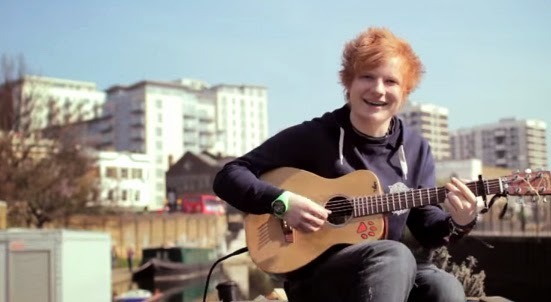 The trouble is now that he's, you know, global pop superstar Ed Sheeran, he makes a lot mediocre pop music.
But here's why I'm writing about "Bad Habits": The release strategy for it has been absolutely manic.
I like to watch huge artists work through their release strategies. Acts like Ed have all of the resources in the world at their disposal, so the choices they make are (supposedly) the best ones and the promotional things they do are based on as much data and research as anyone could hope to have.
Ed Sheeran is doing a lot of things. His promo strategy is really interesting (even if the song isn't), and it's likely leading to another #1 hit (at least in the UK).
Let's learn from it.
If you're an indie artist, you almost definitely can't copy all of Ed's promo, but you can take insights away. Here are three of them.
1. Tik Tok is the place to break music(?)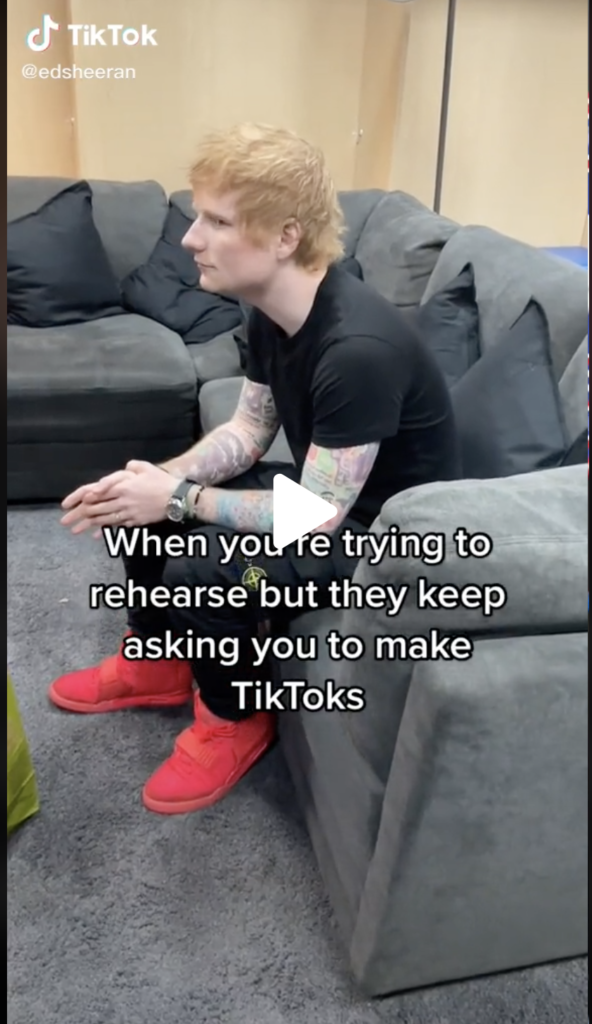 I've written many times that I don't like Tik Tok. I still don't like Tik Tok. But I've got to admit that it's increasingly the place to break new music (especially any kind of mainstream music).
In the good-old-days (late 00s and early 10s), breaks used to happen on music blogs – shoot, that's even how Billie Eilish broke first a few years ago. Now, though, breaks happen most often on Tik Tok, and big acts know it.
Consequently, if you wanted to hear "Bad Habits" before it was out, the platform was the place to do it. Sheeran teased the track from his account multiple times, featuring himself playing the chorus acoustically and sharing backstage footage from his music video shoot.
That stuff got cross-shared to Instagram, but it was definitely made with the intent to blow up on Tik Tok (where it did rack up millions more plays).
The clincher was that Sheeran literally played his release show on Tik Tok this past weekend.
Clearly, his team is trying to influence tastemakers on the platform. That's worth thinking about as you plan your next release.
(But I still say if you don't actually enjoy making Tik Toks, you're better off taking a pass.)
2. Releases take time
I also found it interesting that Sheeran's release took months.
We live in era where you can produce a song in a day or two. As a result, it's become pretty common to see artists drop their projects out of nowhere (think Beyoncé with Lemonade or Taylor Swift with folklore, both of which, of course, were wildly successful).
Surprises work when you're a megastar who can count on the world stopping to watch what you do.
But deliberate, planned-out promotion works for anyone – and, given Sheeran's hardworking persona (he hustled and busked for years before he blew up), it kind of makes sense he went with the more traditional route.
He started dropping hints about a new album nearly six months before he put out the first single. He marketed the single explicitly for about a month.
The result is that virtually everyone in the mainstream-music-media knew the track was coming – and so the coverage, unsurprisingly, rolled steadily in.
Too many indie artists put out music without planning a release. Be like Ed Sheeran and plan deliberately. Give yourself time to build momentum before you drop your next track.
3. Even megastars create additional context
I've always said that context makes art matter (I wrote kind of a manifesto on it for Two Story Melody's About page). And my word, Ed Sheeran has created a ton of context around his new track.
Relentless Tik Tok and Instagram campaigns. A full week playing on the Late Late Show. And, most notably, a ton of pink vampire visuals, including a glitzy music video.
Let's be honest – if the audio for "Bad Habits" was the only piece of content Ed Sheeran put out, there's no way the track would be threatening to place as another #1 single. It's just not that good.
It's all of the content and context around the track that's driving the plays.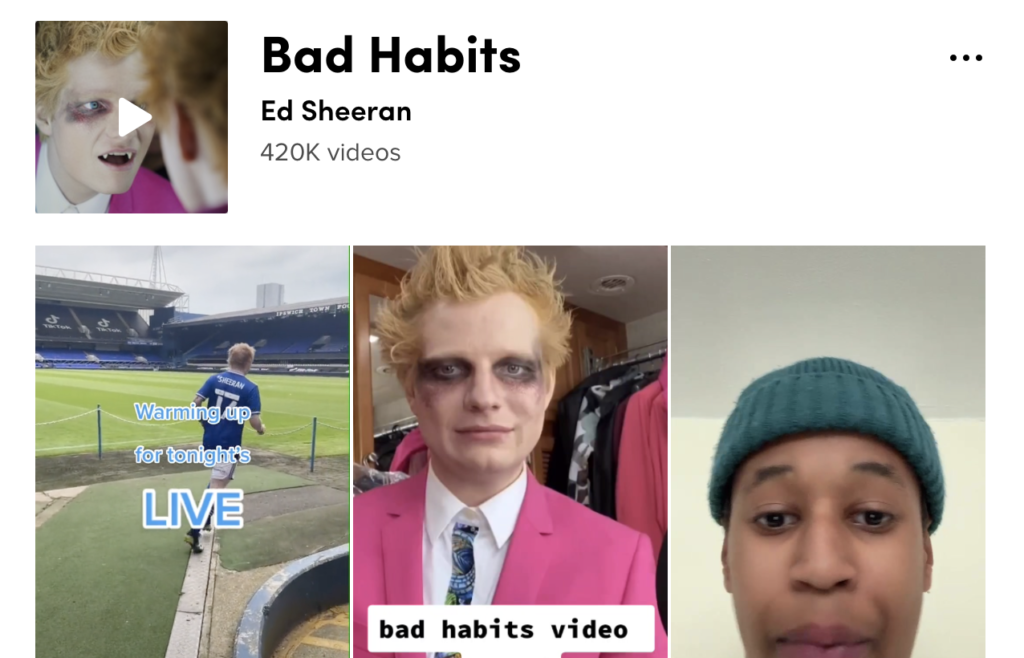 People are listening to it because they're interested to hear Sheeran's "new direction" (it's not that new) and because they want to see what the heck he's doing as a pink vampire (not that much).
The takeaway: Your art doesn't have to – and shouldn't – stand on its own.
The more you create a world around it, the more people will be interested in entering in.
Final thought: Keep watching.
As you grow your artistry, it's always helpful to track with what other artists are doing. That doesn't mean copying them, but it does mean gathering data.
And artists like Ed Sheeran have the most data at their disposal (even if they don't always have the best music).
While you won't be able to apply everything you see out there to your world as an indie artist, you'll inevitably learn what works in the mainstream – and there's a decent chance you'll find things that work in your stream, too.
Keep your head up, keep watching, and good luck.